When Ida visited us in summer 95 she decided to make a sculpture for one of the little fisher villages, here on the cantabrian coast. Her idea was to give it as a present to the village people if they put the uncut stone, and to do the work not in a studio, but where the sculpture will find place. So the people could watch her every day, talk to her... kind of interactive hewing... While Ida did first studies in Amsterdam, we looked for an ideal place. Finally we presented Idas virtual portfolio to Jose Maria, the chief of Castropols culture department, because we got told that this village wants a sculpture for its new city halls square. Jose liked the idea and Idas work, and quickly the official decision was taken. Castropol likes Idas present and Ida likes Castropol.
Ida arrived in Asturias the 18th of July and after getting a good stone out of the quarry she worked two days in the factory of Manuel Mallo Mallo in Begonte, where she supervised the cutting of the stone, a granito de Parga.
Now since the first of August Ida is working in Castropol. The steps of the process can be seen by clicking the following dates.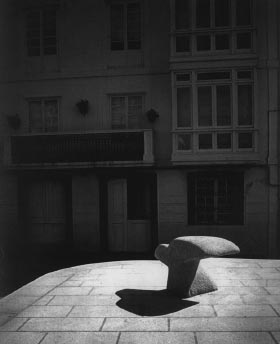 text
by Ida for the
people of Castropol,
spring 96

the stone

press comments


30. July 1996
Idas first look at the raw stone,
together with Manuel Mallo Mallo

31. July 1996
The stone leaves the factory where it
has been cutted by Eugenio Torres Cainzos
and Jose Manuel Rodriguez Seijas

1. August 1996
Early morning in Castropol, the stone landed
Ida at work
In the morning I have different talks
than in the afternoon.
In the morning when I look up from my
work I see 20 eyes looking at me from
all sides.

2. August 1996
The bird slowly grows out of the stone
In the afternoon people take their time
to talk.
The man sitting and working on my stone was
interested in sculpture tools. He studied
art in his free time.
He liked to try them out.

3. August 1996
Old man are watching me for 3 hours,
one walk around and just watch me, they
don't talk to me.

4. August 1996
A man made a video of me, I asked why, he
said, I like to film the exotic.

5. August 1996
A man shouted from far, this is the
battle with the stone.And what ist this?
I said a bird, he said but a bird is so
light why do you make something so light
in a heavy stone?
We talked about things that are light in
life can be heavy, about the oppositions and
contradictions in life. A good philosophical
talk in spanish.

6. August 1996
My biggest fan is a girl from 7 years.
She tells me that I am doing great every day.

7. August 1996
The man who lives opposite of the sculpture
greats me every morning.
Good morning, I like to see you sculpture,
this will be a good memory.

8. August 1996
Older women coming up to talk now too.
I showed a woman to have a look from
distance. She told me that she has a photo
of her father and that when she looks at a
distance to it, he looks at her with one hanging
eye and when she is close to the photo he does
not look at her.

9. August 1996

10. August 1996

14. August 1996

18. August 1996

19. August 1996

20. August 1996

22. August 1996
At 8 o'clock in the morning, the crane arrived
to move the stone to its definite place on the
square.
I was alone with the crane-driver when he did put
the ropes around the sculpture and pushed the button
of the truck to uplift the stone, the stone falled
back on the ground.
Luckely it did not break. This sound alarmed in one
minute five men who helped then to fix the rope better
and the bird went high up in the sky.
One of the man was moving his arms up and down to
imitate a fliying bird.
I like the new place of the bird, his beak pointing
in the direction of the street that is leading to
the square and I like the way that the morning sun
shines at the sculpture and to see the changing of
the form of the shapes during the day.

24. August 1996
The title of this work is "Canto de Sirena".
A sirena is a sea nymph with the body of a bird and
the bust of a women. They lured sailors with their
sweet calls to come to them. The bird will follow
the canto de sirena.

29. August 1996